April 23, 2023
We underestimate the number of garments in our wardrobe
A new study on our clothing habits shows that many of us have little awareness of how big our wardrobe is – and wish it contained fewer items rather than more. Furthermore, the study suggests that investing in clothes you wear often is a really smart move.
Today, each garment we buy is used on average seven times, according to a report by the European Environment Agency, and research shows that production accounts for as much as 80 percent of a garment's environmental impact.
– It's really a waste to make products that are not used. We need to get better at using what we already have in our often quite large wardrobes," says Ann-Charlotte Mellquist, project manager at RISE.
The RE:Source-funded project Favorite Wardrobe has measured how many of our garments we actually use, and the results will now be presented.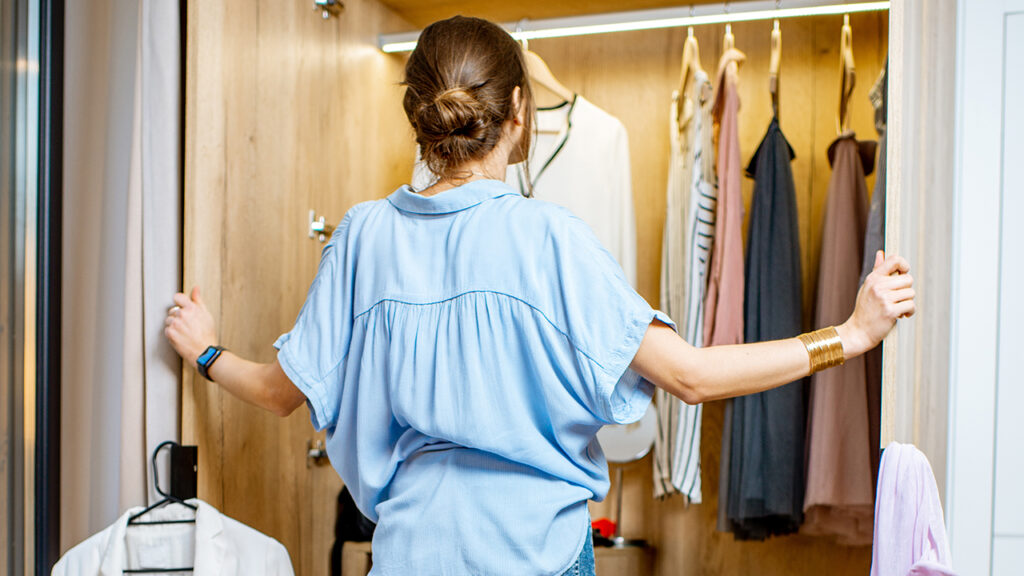 For 100 days, 340 people were asked to log the garments they put on in the morning in an app. The participants also answered a questionnaire on how many garments they estimated they had in their wardrobe. It quickly became clear that many people own more clothes than they think – many of the participants used more clothes during the test period than they had initially reported having in their wardrobe.
– We clearly have trouble keeping track of how many garments we own, or don't really want to admit how big our wardrobe is, says Ann-Charlotte Mellquist, who runs the project.
There was one striking finding about the cost per use. It became clear early on during the 100 days that there was little difference, even between cheaper and more expensive garments. A pair of jeans and a t-shirt had the same cost per use, even though the jeans did cost at least three times as much.
Want a smaller wardrobe
Another clear finding from the study is that most people feel they have too many clothes – when asked if they wanted a bigger or smaller wardrobe, no participant wanted to own more clothes than they already do.
– People feel it would be a relief to have less stuff to take care of, but it can be difficult to get rid of garments – for emotional reasons and also because of practical issues such as the difficulty of finding places to drop off or recycle garments, says Ann-Charlotte Mellquist.
The study was conducted together with three brands, Asket, Filippa K and Houdini Sportswear, and the project also looked at potential business models that could increase the utilisation of our clothes. Curated second hand by the brands themselves, lifetime guarantees, repair or tailoring services, rentals or services that help us keep track of our wardrobes are some of the options that could become increasingly important in a more sustainable future.
Key conclusions from the project:
Many of us underestimate how many garments we actually have in our wardrobe.
Men use the items in their wardrobe more often than women. The ten most logged garments in the survey were worn by men.
The majority want a smaller wardrobe – a large wardrobe is associated with a lot of work and time.
Cost per use has more to do with how often your garment is used than what it cost to buy.
The cost per use drops significantly when it comes to second-hand clothes.
High quality garments with a good fit are used more often. Garments that have lost their fit, have been washed out, are uncomfortable or hard to fit are more likely to remain unused.